Blaise watches from a safe distance on Chapter 8 Page 28. Things have gone terribly wrong. All he has left are the two amethysts that were Snow-by-Night's eyes. And with that we end Chapter 8.
On Wednesday, we're beginning Birds of a Feather, the vignette for Chapter 8. For this story, we're going back in time by two years to see how Blaise and Jassart met. As an incredibly special treat, our guest artists for the vignette are Shazzbaa of Runewriters and Steph Stober of Final Arcanum. To see a preview of their take on Jassart and Mathilde, please vote for Snow by Night on Top Web Comics.
Art Contest news! We've made it through the qualifier round so I'm pleased to announce the Elite 8.
Laura Chilson (82 votes)
Rein Eire (49 votes)
Zyyren (19 votes)

Amasugiru (16 votes)

Delphina (14 votes)
Monica (13 votes)
Luke Yerpe (9 votes)
Reba (5 votes)
Using the vote tallies, I've created the bracket below. The voting is now up. So vote for your favorite today. You can vote once a day through Saturday at midnight.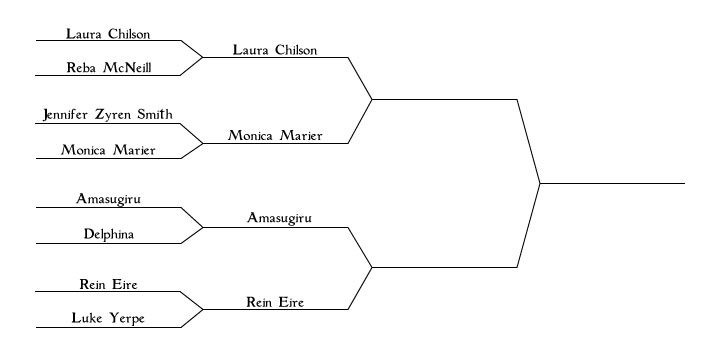 ---
---